Credit Score Drops By 100 Points, Don't Worry - We Can Help!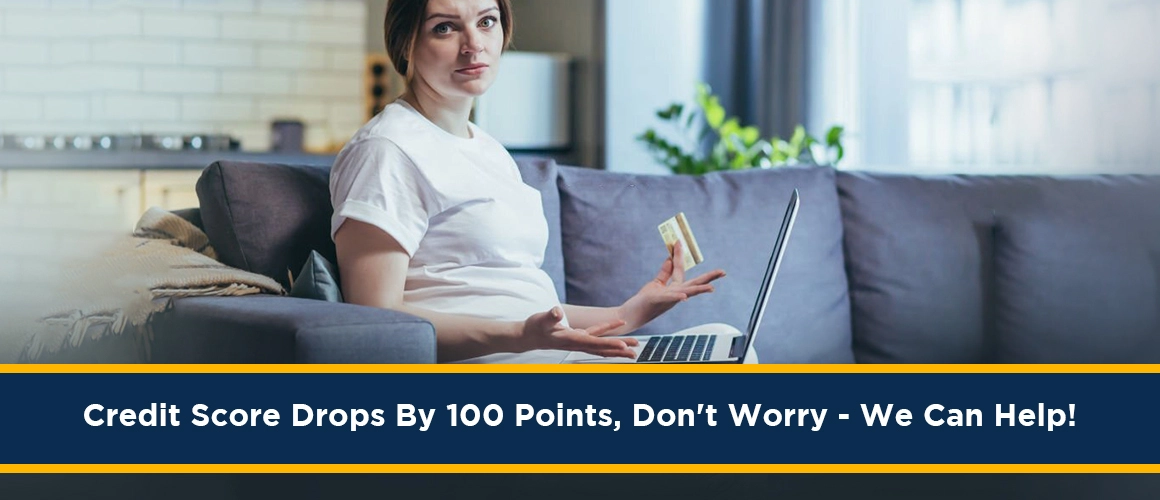 Keep your credit score healthy by following our steps to avoid over loans, build a healthy credit history, and stay on top of your loans.

Your credit score is dropping by 100 points!
Get a credit score that will help you get the best terms and conditions when taking out a loan. A high credit score will help you qualify for the best loan terms, and a low credit score can cost you thousands of dollars in repayment.
Are you looking for a way to improve your credit score? Check out our website to find out how! We offer a variety of credit counseling and tools to help you achieve a better credit rating. Improve your credit score today!
Looking to boost your credit score? Check out our guide to fixing errors in your report. From correcting inaccurate information to Increase Credit Limits, we've got you covered.
Take Action Now If Your Credit Score Dropped 100 Points!
If your credit score dropped 100 points, take action now! Improve your credit score today with our simple, easy-to-use tools.
1. Identify the Problem
If your credit score has dropped 100 points, there may be some major problems that have recently appeared in the report. For example, you may have an error on your report, you may have made a late payment, or you may have an outstanding collection due.
Determining why your credit score dropped 100 points is essential to improve your credit utilization rate and protect yourself from being taken advantage of in the future. Get a copy of your credit report today, and identify the problem.
2. Remove Errors on Your Report
If your credit score drastically drops 100 points, chances are there is simply an error on the report. According to the Federal Trade Commission (FTC), one in every five consumers have errors on at least one of their three credit reports. That means that there is a high chance you may have an error in your credit score. Please check your credit score regularly and make any necessary changes if needed.
If you have a credit report that is inaccurate, you will need to contact one of the three credit bureaus and report the error. They will then investigate the items. If they cannot be proven true, the items will be removed from your report. You can find copies of the documents that support your credit score here.
3. Remove Late Payments
Looking to improve your credit score? Check out our late payment removal service! A single late payment on your loans and credit cards can drastically reduce your credit score, so make sure you're keeping up with your payments!
If you've been experiencing late payments, remove them from your account as soon as possible! It can be difficult to remove late payments from your account, but our team of experts is here to help.
4. Remove Debt
Debt is a major factor in your credit score and can have a significant impact on your financial security. Debt can affect your credit history, rating, and ability to borrow money. To help reduce the amount of debt you have, use our free advice to get a copy of our report on how to improve your credit score.
If you owe money and you can't pay it, the creditor may be able to take the money from your paycheck or credit score to try and get you to pay it. This can be very difficult, but if it's an error on your report, the creditor might not be able to pursue legal action. You'll need to contact the creditor in order to remove the debt from your report.
5. Build Your Credit The Old Fashioned Way

Get your credit rating back up and start building your credit the old-fashioned way - by charging small amounts to your credit card and paying it off at the end of each month.
Looking to improve your credit score as quickly as possible? Look no further than our unique programs that can help you boost your score by paying down revolving balances, removing late payments, and more. Contact us today to learn more!
6. Hire a Credit Repair Company

Are you struggling to get your credit report free? Do-it-yourself credit repair software may be the solution for you. This software can help remove errors, debts, and late payments from your report. However, this requires a lot of time and effort on your part.
Looking for a way to get your credit score up? Look no further than credit repair Credit! We're here to help you take care of your credit, so you can focus on what's important - your career and family.
You Can Improve Your Score Fast!

Looking to improve your credit score in no time? Contact the credit repair company today and get started! We offer a variety of methods to get your score in tip-top shape, so you can erase that 100-point drop in no time!
Call on (888) 804-0104 & Fix your credit report now!